Adoption
Our hearts are filled with a mixture of happiness and sadness each time they leave. This month two more families were formed. To see the joy on the childrens' faces as they hug their new parents not only validates the work we have done, it also motivates us to continue to fight for a better life for each one of these children.

None of this would be possible without the support of people like you! We greatly appreciate all who do their part to contribute, directly or indirectly, so that the LAR Maná can be what it is today. ㅤ
Birthdays of the Month
Three of our little ones had birthdays and we celebrated them with a special party, full of love. Each birthday child got a beautiful and delicious birthday cake, made just for them by our educator/teacher, Rafaela. The Pedagogical team completed the celebration with decorations and sweet and savory snacks. Each child is given their choice of theme and color scheme for their celebration as an opportunity to show how special they are.
International Womens Day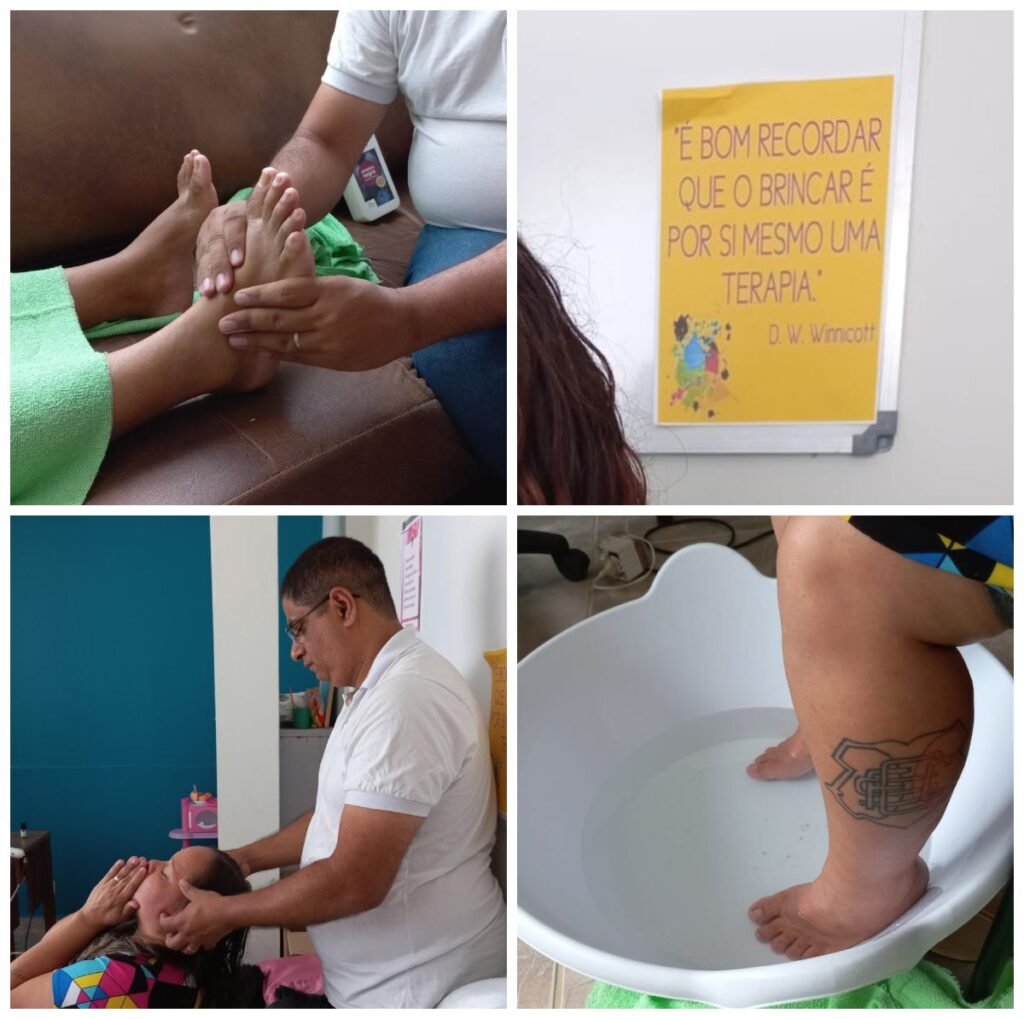 On March 8 we celebrated the International Day of the Woman. The staff at LAR Maná is predominately female and these women dedicate their time, day and night, to caring for our children. But who takes care of the caretaker?
As we thought about how to give back a special moment to these incredible women who truly are warriors on our campus we decided to give them some time for a massage and relaxing exercises. Each was given a special gift reflecting the love they deserve. They thought it was wonderful!
Training for Social Educators
Every month there is a training session here at the LAR Maná for our social educators with the objective of recognizing their day-to-day challenges and provide tools to help with the children's varied needs.
We started the meeting with relaxing exercises presented by our intern in psychology, Nilson Narciso along with some warm-up activities with our special education professional, Lusileide.
The focus this month was the importance of teamwork, which benefits not only the workers but also for the children, the motive of our dedication of service.
Technical and Educational Team Meetings
We recognize the importance that planning contributes for us to be organized and function well together.
This is how we set clear goals and benchmarks to reach them. We had two important planning meetings, one with the technical team made up of psychologists, social worker, special education professional, secretary and our director, Ana Valeria and the other with our educational team.
These meetings were opportunities to exchange ideas and discuss strategies focused on providing a secure, healthy and welcoming environment, for the children we care for here at the LAR Maná.
Swimming Lessons Are Back
Every week the children have swimming lessons with their teacher, Conceiçao. She patiently teaches our little ones this important sport.
Through her lessons the children learn to swim as they develop physically and socially while having lots of fun! Our little fishes love these lessons!
Special Education
Some of our children are participating in a social work project sponsored by Clinica Michelle Albuquerque (evaluator), together with Amanda Moore (donator of resources) to beneifit LAR Maná.
The development of our children is being assessed through an evaluation tool called Bayley III. This diagnostic identifies delays and strengths in their respective areas and when necessary the children are referred to specialists for further testing.
We are profoundly grateful to Michelle and Amanda for their love and generosity in helping us provide this valid evaluation report so that we know how to look for further specialized treatment and be proactive in providing interventions through our preschool program to help strengthen their weak areas.
Did You Know You Can Have a Positive Impact on the Life of an At-risk Child?
The Lar Maná is supported through donations and to continue to meet the needs of all the children in our care we need your help. If you would like to contribute with any amount, feel free to contribute on our site https://donate.larmana.org/sponsorships or through our PIX 10.386.914/0001-96. We are immensely grateful for the generous contributions of everyone who helps us in this effort. ㅤㅤ