Easter Celebrations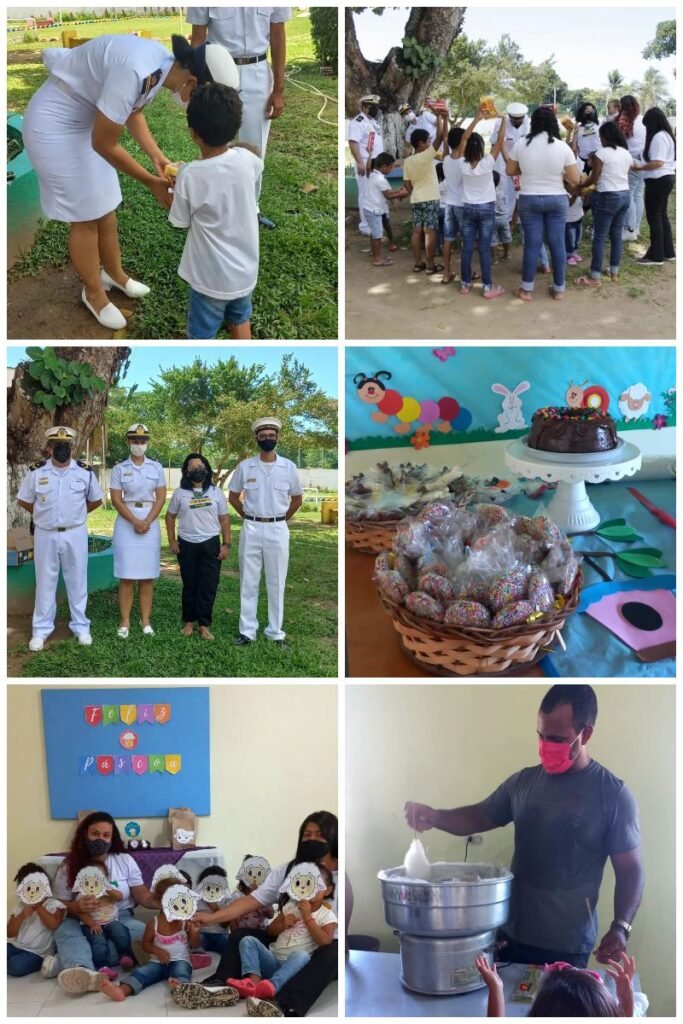 Our staff prepared beautiful Easter celebrations this month and we couldn't resist coming here to tell you all about it! In the morning of April 14th, we had a beautiful party at the Maná do Céu Preschool, prepared with great love by teachers Tainã and Cristiane.
In the afternoon, we had a performance of the Passion of Christ, performed by our little ones.
We relived two very important moments in the Bible: Jesus' entry into Jerusalem and the Lord's Supper. All of the children participated in the play and did a beautiful job. We ended with a prayer, thanking God for all the blessings He has provided us with. It was a very beautiful moment.
We also had very special visitors to celebrate this date. We received a visit from the Brazilian Navy.
They brought lots of chocolate for the children, who loved it! A beautiful family also came by and prepared an amazing party for our little ones, with cotton candy and lots of chocolate! ㅤ ㅤ
Best Day Ever
The 22nd of this month was an outstanding day here! Karol Recreações' team, recreation workers, prepared several activities for our children and the children from Lar Vó Raimunda, who came over to have fun with us.
We had ball pool, slides, Easter chocolate hunt, trolley race, and even the Easter Bunny came to visit us. The children had a lot of fun! They jumped, ran and danced a lot!
"Portal do Beija-Flor" Tour
What an amazing trip! The children got to experience the "Portal do Beija-Flor", which means "Hummingbird Portal", located in Aldeia. It is a beautiful place known for hosting different events.
They were invited by the host couple Paul and Simone Ashton and child sponsor Anita. We were welcomed with so much love!
Besides inviting us to visit such a beautiful place, the hosts hired Tio Billy and Tia Dani from Recreação Oficina do Lazer to provide recreational activities and play games with the children.
Simone led us on a trail through a preserved area of the Atlantic Forest, where we learned about some typical plants, such as the urucum fruit, the raw material for paprika.
The children squeezed the seeds and used the pigment to paint their faces, just like the Indians used to do.
To top this wonderful day off, the lunch menu couldn't be better: feijoada! After the meal, the children had a moment of relaxation with music and storytelling by Tia Tila, who is a psychologist and the host Simone's sister.
It was a very happy day, filled with memorable adventures for our little ones.
Special visit from Azul Volunteers
In April, we welcomed a group of volunteers from Azul airlines, who visited Lar Maná to get to know more about the work done here and bring gifts and donations for our children. ㅤ
Donation from Colégio Núcleo
The work developed here at Lar Maná is only possible thanks to the generous donations we receive. We would like to thank the school Colégio Núcleo for the campaign they created to collect milk to help Lar Maná.
Most of the children living here drink milk every day and it is something we often run out of.
Everyone Against Bullying
April 7th is the National Day Against Bullying. With this in mind, psychologist Nataly and teacher Leide worked on exploring this theme with the little ones.
The children at Lar Maná come from backgrounds of abuse, violence, and neglect. As a consequence, unfortunately, it is common for them to develop traumas and disorders.
Our daily mission is to work on these issues through dialogue and activities that help them understand how to overcome these problems.
In the Day Against Bullying, our activity started in the soccer field, where they learned that they should not call their classmates bad names. Then, they watched the movie "What's with the bullying?", which tells the story of a child who is bullied by his classmates.
Many of our children related with the character, because unfortunately this is a common practice.
However, it must be fought and dealt with from an early age.
After the movie, there was a moment of reflection where the children could explain some situations they have experienced and represent them through drawings and writing. We discussed the negative aspects of bullying and how to overcome them. Our biggest mission is to provide a loving shelter in all aspects of their lives.
Technical Visits
Every month, we receive a visit from the Secretary of Social Policies and Human Rights of the Municipality of Paulista to inspect Lar Maná.
The purpose of these visits is to check on our staff, facilities and everything that is offered to the children here. We are very happy to have a record of positive evaluations, since we are always working hard on going after donations and offering the best we can for our children.
Did You Know You Can Have a Positive Impact on the Life of an At-risk Child?
Over the years, sponsoring a child has been one of the most effective ways to help them develop a positive self-image, get an education and rise up out of poverty.
When you join our dedicated team of professionals and volunteers through sponsorship, we work together to guarantee the physical well-being, mental health and spiritual development of that child.
If you want to be closely involved with the transformation of an at-risk child, you can now personally sponsor a child who lives at Lar Maná from wherever you are!
Click the link to start your journey of positively impacting a child's life. https://www.larmana.org/sponsor-a-child/