Birthdays of the Month
We had another beautiful party for two of our princesses!!! They just turned 4 years old.

What a joy to be able to provide these moments for them. We make a point of celebrating each birthday every month, as a way of showing how special children are and that we should celebrate their birth.

All parties are organized with great care and love by the pedagogical team and also by all of you who help us through donations. Without them it would not be possible to offer everything we do for them. The children danced, jumped and played. The had a really good time!
Family Reintegration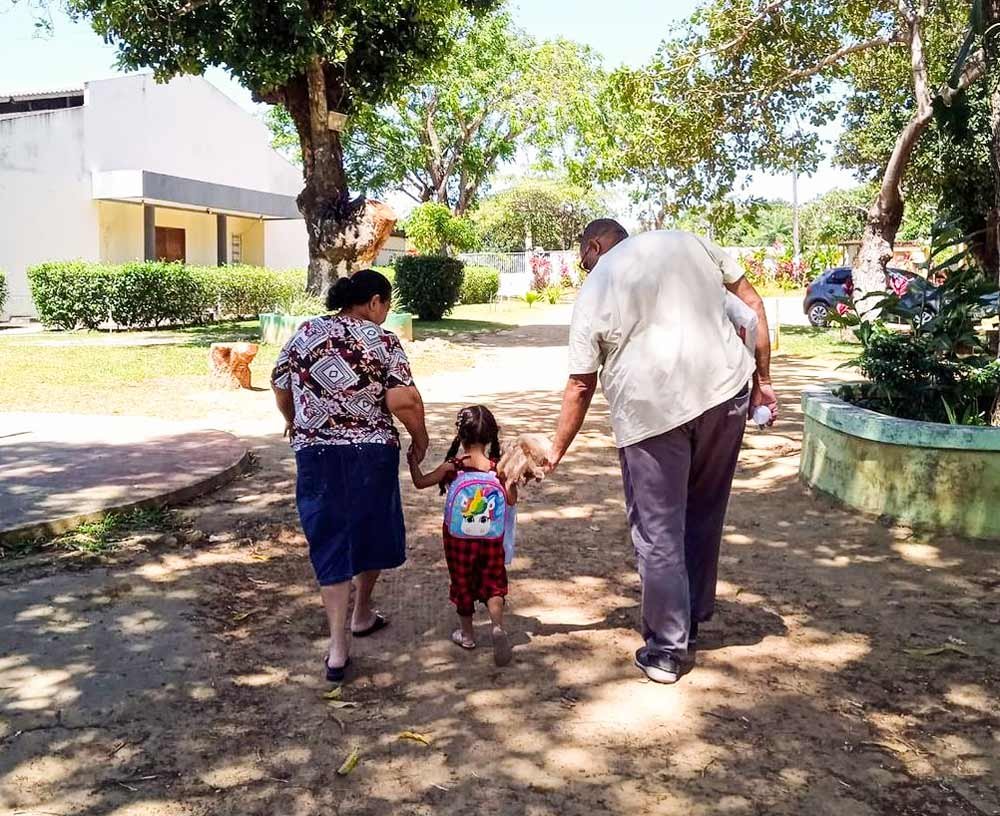 This month we said goodbye to another one of our children. She returned to her family after a period with us in the foster home setting.

We celebrate this moment of family reintegration, knowing that it is an important step for the child's well-being. We wish her and her family love, support and happiness in this new chapter of their lives.

We will continue to accompany her with affection and take care of those who remains with us, always seeking the best for each one of them.
Going to the Dentist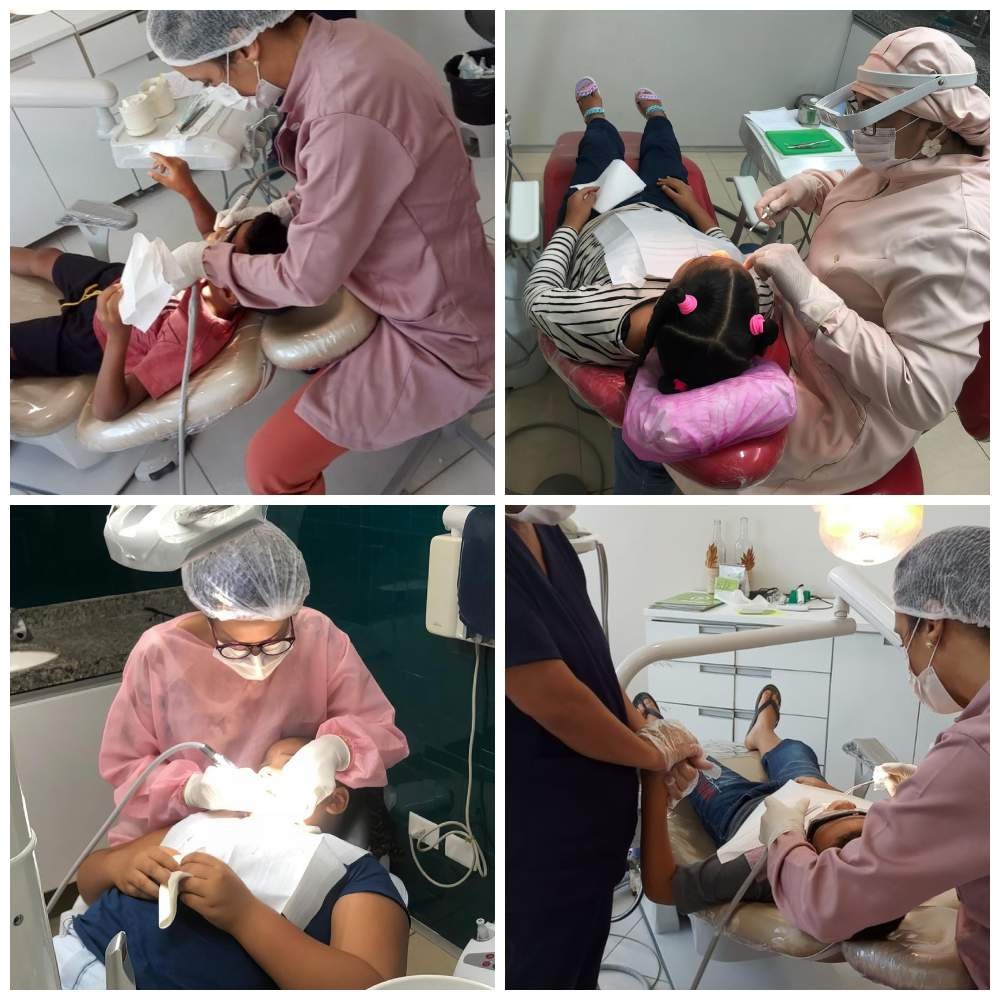 Our children regularly go to the dentist to take care of their oral health. They are accompanied by excellent professionals who voluntarily dedicate themselves to providing this service with great care and love. They are: Dr. Angélica Rocha, from Odontoart Tabajara, and doctors Ana Amélia Lapa, Verônica Luna and Renata Leitão. Thank you very much for all the care you take with our children.
Visit from Colégio Rosa de Saron
What a special afternoon we had here at Lar Maná!!!

The students at Colégio Rosa de Saron presented us with an afternoon full of joy, music and solidarity.

They prayed for the lives of our little ones, sang beautiful praises that touched our hearts and even wrote letters full of affection for each of our children, in addition to donating clothes and food. They shared lots of hugs and fun moments with our little ones.

We thank you from the bottom of our hearts to Colégio Rosa de Saron for this wonderful visit! We hope to see you here more often!
Mothers of Itaú Meeting
Today we had another meeting with the Mothers of the Itaú Project, supported by Itaú Social. This project aims to provide meetings with the mothers of the IT students and address issues present in the daily lives of these families.

In the month of Pink October, the technical team highlighted the importance of preventing breast cancer. Often, the lack of adequate information and the fear of talking about the subject are factors that affect the diagnosis of the disease.

It is essential to talk about this to deconstruct taboos, as early detection increases the chances of a cure. Taking preventive exams is extremely important, but in addition, the search for healthy habits is essential.

The meeting was a blessing! We had dynamics, lectures and moments of reflection. Do today what will make you proud tomorrow. Be safe!
Visit from the Secretariat of the Military House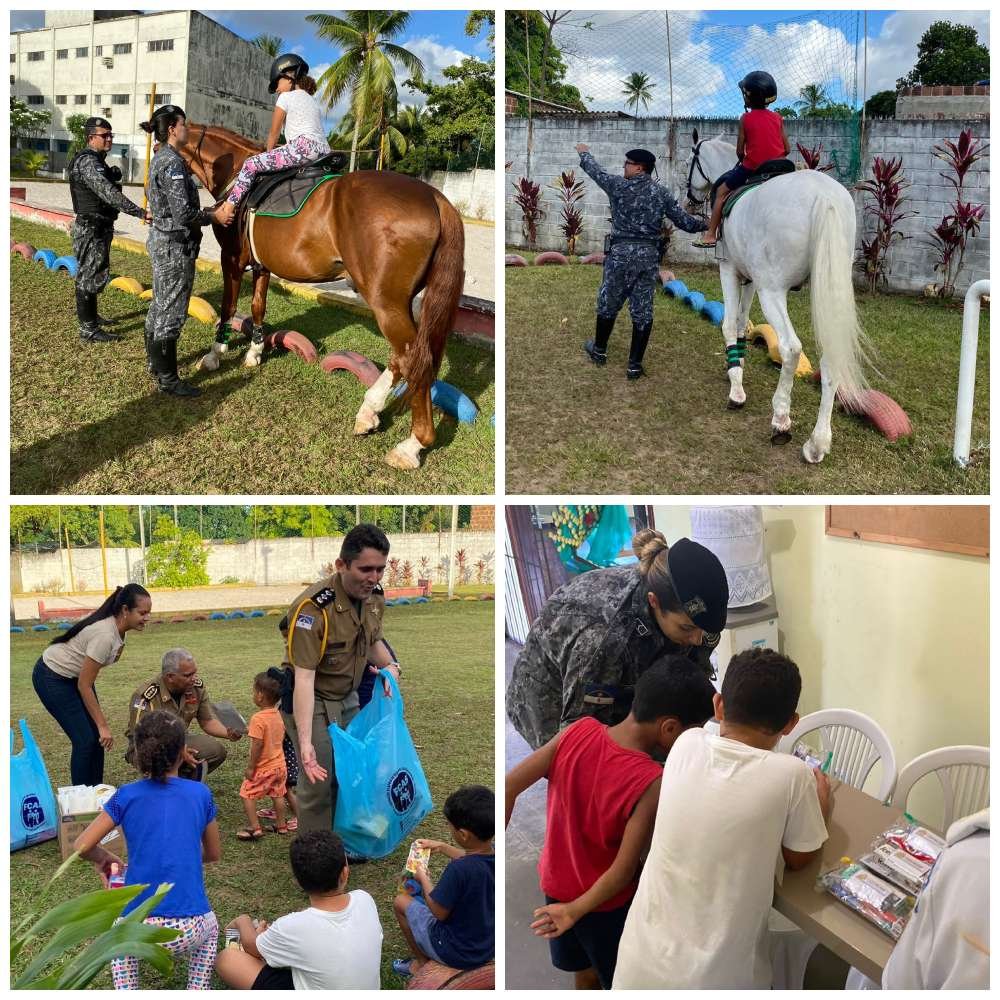 There are days that are important, right? And this day certainly marked our little ones in a very special way. The team from the Military House Secretariat provided an incredible afternoon for the children.
They offered an oral hygiene workshop and delivered some kits with various products. Furthermore, we had a visit from the Pernambuco Military Police Cavalry, who were super attentive and careful with the children. And the horses? One more beautiful than the other.
We also had the presence of the 1st Independent Police Company with Dogs. Well-trained animals and a team of incredible professionals.
The children also received lots of toys and sweets from the police officers. It was an afternoon full of learning and fun, provided with great care by the Secretariat of the Military House. We just have to thank you for all your attention, affection and generosity.
Nutrition Workshop
On October 7th, we received a visit from students from the nutrition course at Maurício de Nassau College, in the city of Paulista.
They brought a nutrition workshop, talking about the importance of fruits and vegetables for our health and in a very dynamic and fun way they contributed to our little ones' nutritional education, leaving a seed of learning for them.

We would like to thank Juliana Bezerra, Mariana Firmino, Adriana Bezerra and Rosiene Cardoso and everyone who was involved in this wonderful event.
Teachers' Day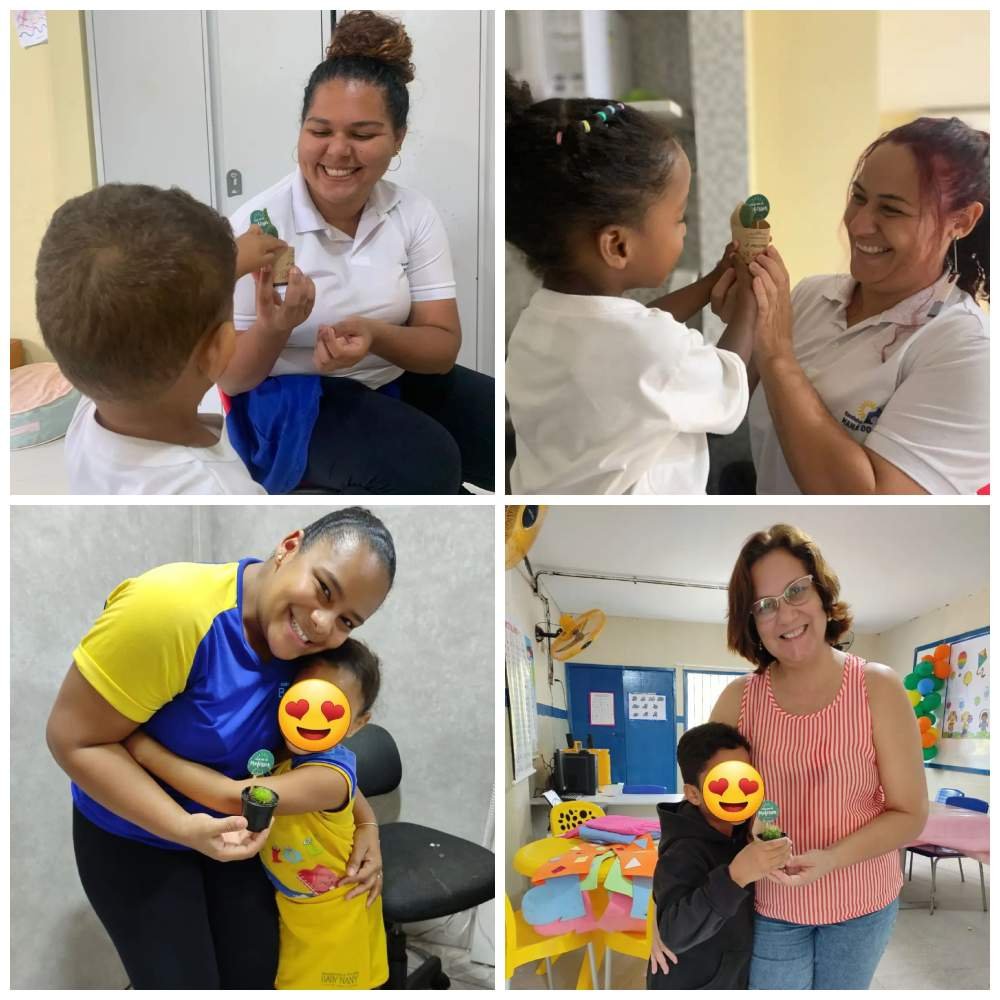 On October 15th we celebrate Teachers' Day, but we know that in fact every day is theirs. They serve as guides for our children, transmit knowledge, and offer support and encouragement for development. They welcome, inspire, motivate.
To show our appreciation, the children took cactus seedlings to present to the teachers.
Teachers and cacti share two characteristics in common: resilience and strength. In a country where they are not valued, teachers continue to fight for the future of all of us.
Thank you very much to each teacher who has passed through the lives of each of our children. You are a source of inspiration for our little ones. May God bless you and reward your efforts.
We went to the beach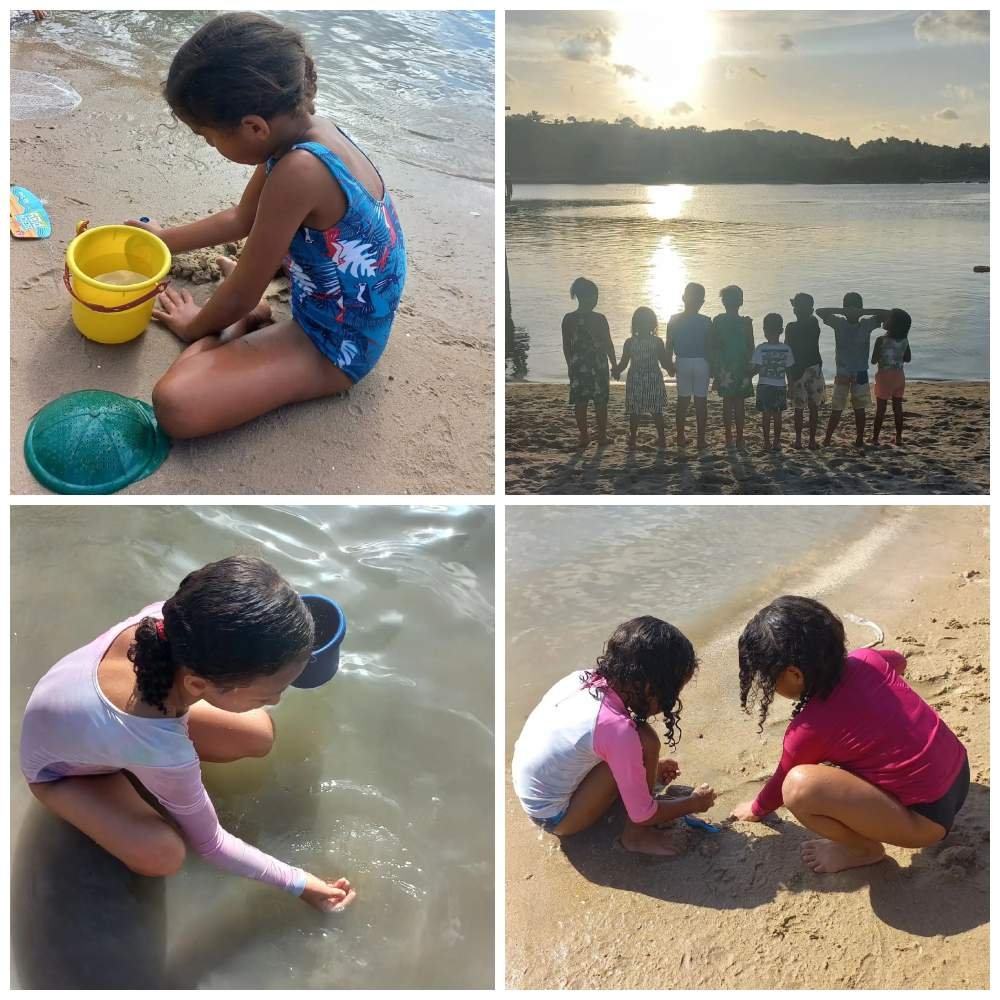 It's always good to get out of the routine and this October we decided to go to the beach with our children, an environment that they love and where they can play freely. It was super fun and we hope to do it more often. These times are recorded in their memories. It is a joy for us to be able to provide these moments for them.
Children's Day at Game Station
October is children's month and our group was invited to participate in an incredible party at the Game Station at Shopping Tacaruna. The generous invitation came from Dr. Eliete Machado, who always remembers our little ones with lots of love. The best way to enjoy Children's Day: PLAYING!!!
ICBV Children's Day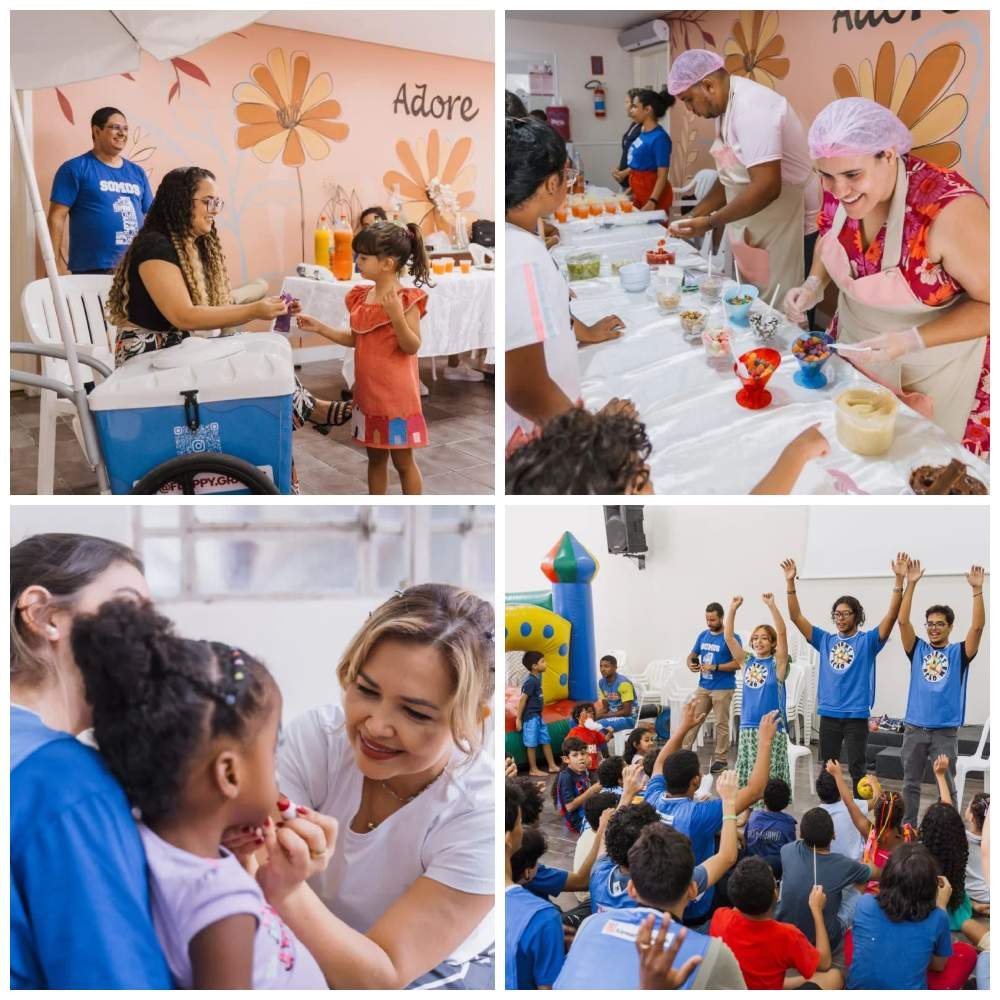 Still celebrating Children's Day, on October 22nd, our little ones participated in a beautiful party, organized by the Church of Christ of Boa Vista. There was a bounce house, a giant slide, a ball pit, makeup and a lot of other games.
We had the presence of Doceria Gabriela, who brought delicious sweets for the kids to "have a party with". There was also cotton candy, popcorn, popsicles … It was really fun!
Thank you very much to everyone who made this party possible. What a joy to see our children smiling, jumping, playing and making new friends.
UNIBRA Students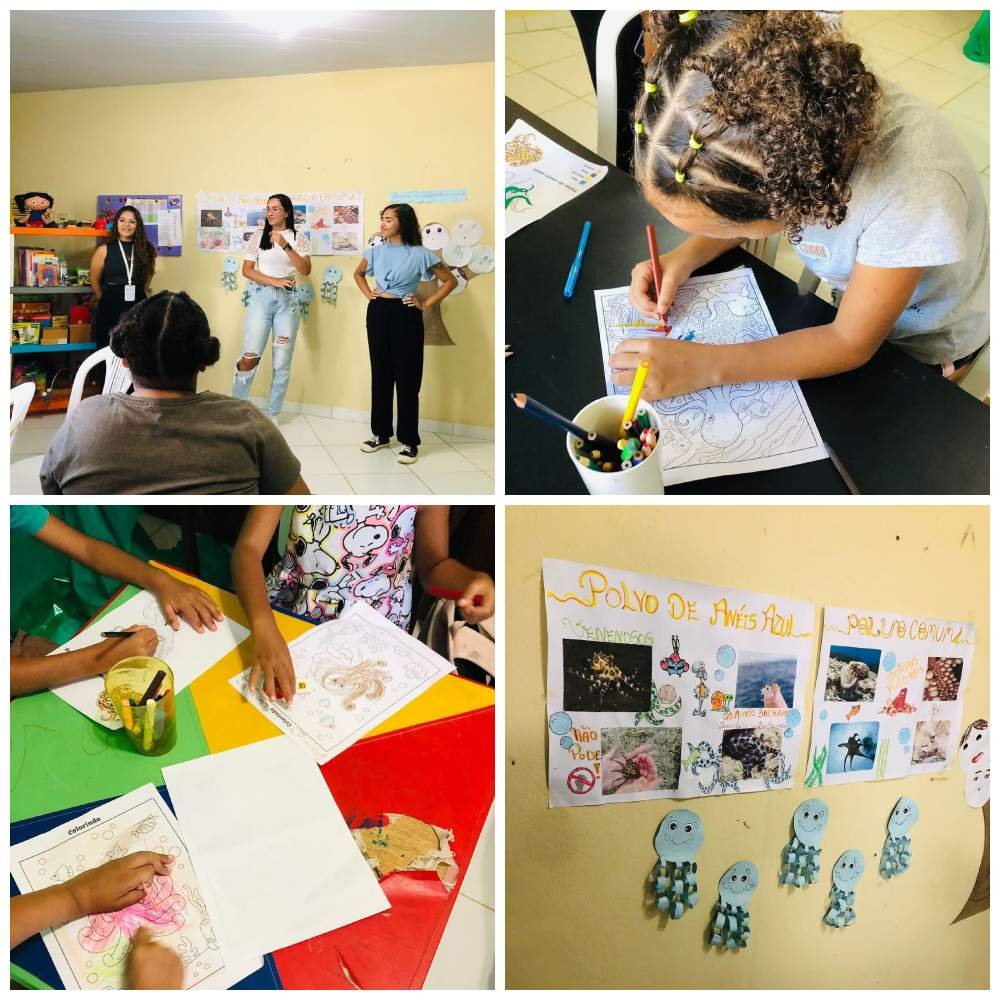 Environmental awareness is fundamental to teaching children about the importance of preserving the environment. By educating them from an early age, we are forming future conscious and responsible citizens.

With this in mind, we had the opportunity to welcome four Biology students from the UNIBRA College into our home. They shared their knowledge about octopuses, incredible marine animals, showing the different species that exist and their importance in balancing marine ecosystems.

We thank the students for contributing not only to the environmental education of our children, but for all the care in bringing super rich and dynamic material to them.
Thank you very much!
We couldn't help but thank all of you for your generosity. Last month, Lar Maná completed 15 years of existence as a foster home and we celebrated this in a very special way.

We opened an online fundraiser to raise the amount needed for 5-6 bikes but you were so generous that we increased the goal and were able to buy 11 bikes, we got 2 more from BKX BIKE and we even built a bike rack and bought helmets! This gift was far beyond what we expected to receive!

Thank you very much for always giving the privilege of being able to count on you! May God continue to bless this work and make our children happy day after day.